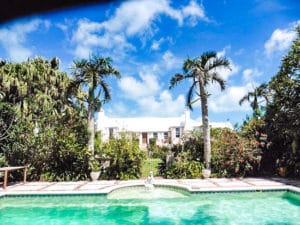 Share a taste of the past in Granaway Guest House, a Bermudian home built in 1734. Away from the bustle of the larger resorts, Granaway captures all the charm of a home rich in detail.
Enjoy breathtaking harbour views of Hamilton and Granaway Deep. Catch a nearby ferry to all parts of the island, bus or scooter off to all of Bermuda's incredible beaches, but end your day with a dip in the garden pool reserved for the few staying at Granaway.
Rise in the morning for a harbour swim followed by a continental breakfast of freshly baked muffins and fresh fruit served with antique silver and Herend china…then off for more adventures. In the main house, there are four guest rooms charmingly decorated in individual colour themes. For more privacy, you may want to consider Granaway Cottage tucked in a corner of a lush garden with its own private sunning garden.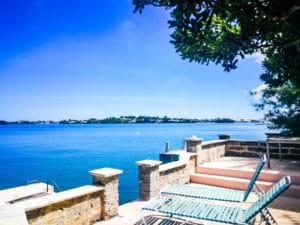 Stay in a quaint pink manor house with waterfront views of Granaway Deep and Hamilton Harbour. Granaway Guest House & Cottages offers old-world style in four individually designed guestrooms and a separate cottage with full kitchen and private sunning garden. Breakfast is served on a tray to your room or in the garden, whichever you prefer. The swimming pool is surrounded by tropical gardens, and there's a gate on the property that opens onto the 17th hole of the Belmont Hills Golf Course.